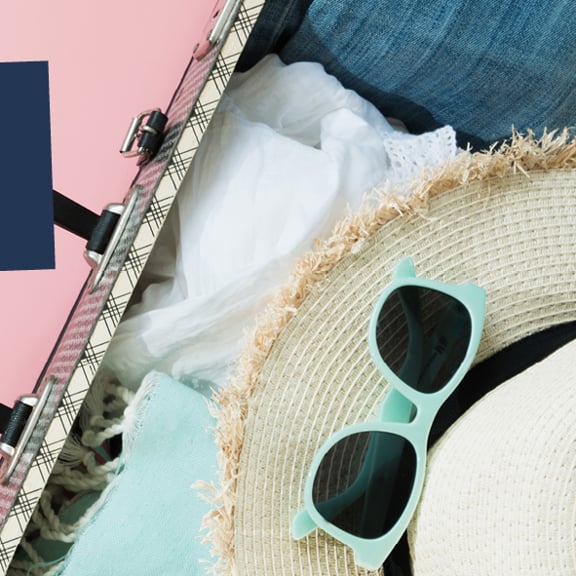 すべてのストーリーに戻る
TOP 10: WHAT TO PACK FOR YOUR TROPICAL GETAWAY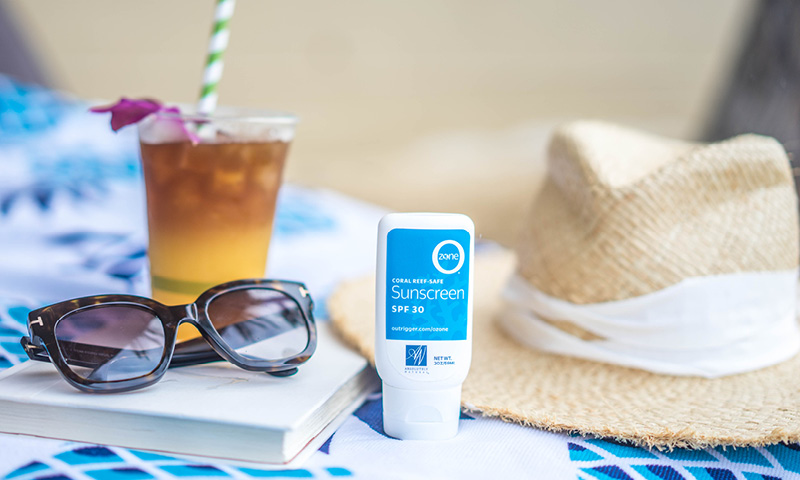 Thatched bungalows over an azure sea. Sunbathing on palm-fringed sands. Hammocks by day, dancing under an open sky by night. There's nothing quite as magical as the tropics. But these postcard-perfect destinations require a few more musts on the packing list to make sure you have a stay as fantastic as the setting. Here's our Top 10 on what to pack for the tropics. Endless summer awaits.
A SWIMSUIT THAT STAYS PUT
When you're adventuring in the water and not just lounging poolside, a water-sports friendly swimsuit is essential to keep you, well, covered. For women, go for a bikini top with racerback straps (sans ties!) or a one-piece. For him, board shorts are perfect for going from paddleboarding to boardwalk—just make sure they're tight enough to stay up without the drawstring.
REEF-SAFE SUNSCREEN
In the tropics, protecting the abundance of ocean creatures (sea turtles! whale sharks!) is just as important as shielding your skin from the sun. Keep aquatic life and your skin safe with sunscreen made without reef-harming chemicals like oxybenzone and octinoxate, wear UV-protective clothing to cut down on the amount of sunscreen needed and check out other ways to stay sea-friendly like Outrigger's Ozone initiative.
UMBRELLA OR PONCHO
Yes, sometimes it rains in paradise.
SIMPLE-LUXE SANDALS
When it comes to shoes, you'll definitely want to pack with both style and comfort in mind. Pick a sandal in a wear-with-anything color and a shape that allows for daytime wandering as well as a hint of nighttime luxe.
WATERPROOF PHONE BAG
Whether you hop on a boat for a day trip to a deserted island or want to take photos of Insta-worthy excursions like hiking, snorkeling or surfing, a waterproof phone bag is a #musthave.
DINNERTIME ATTIRE
No tropical vacation is complete without sunset dinners on the sand, and some resorts require an "elegant casual" look for evening events. A wrinkle-free button-down is great for guys (and makes for an easy day-to-night shift, too). For women, a flowy dress (think kaftans and tunic dresses) is both sophisticated and lightweight enough for the tropical heat.
SHADES & STRAPS
Sunglasses are a must (!), and make sure to pack a back-up pair for water-activity days just in case they take a dip—or get a sunglasses strap (croakies can be cool).
THE DAYPACK
From an afternoon at the beach to seaside-town shopping, a daypack lets you bring a few essentials along. Think (fashionable) fanny pack, island-inspired macramé tote, or unisex canvas backpack.
TRAVEL ADAPTER
Now, wherever we go in the world we want to stay connected. And that means power. In many destinations, the only way to plugin is with a country (or even region-specific adapter). Hint: hairdryers can be especially challenging, so it helps to plan ahead.
SUITCASE SPACE
Last but not least: empty space. You'll definitely want to bring a piece of the paradise home with you, so make sure to leave a little extra room in your suitcase. Whether you're looking for photographic evidence of your Hawaiian vow renewal, to a handmade kukui nut lei, our hosts are here for you.

So what are you waiting for? Book your endless summer now.