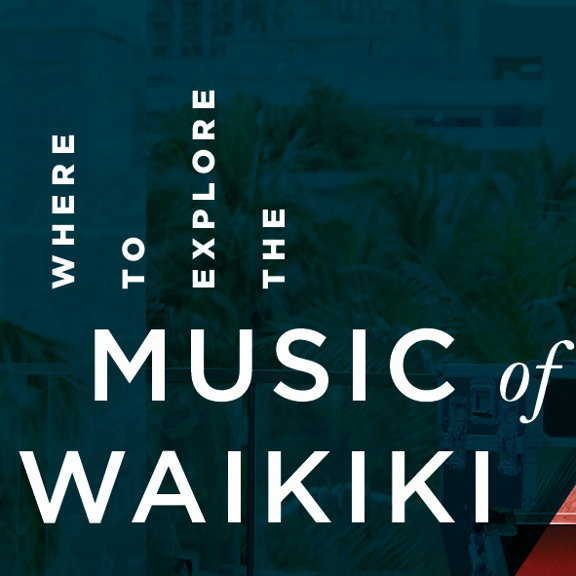 すべてのストーリーに戻る
Where to Explore the Music of Waikiki
With its coconut drums and melodic whistles, traditional Hawaiian music has a unique and feel-good, happy vibe. And in Waikiki, this traditional sound is getting blended with contemporary rhythms for cool, genre-bending combinations—from local artists getting back to their roots with Hawaiian rock to Hawaiian-meets-global hip-hop.
Here's our shortlist of the best-of venues to check out both modern shows and old-school sounds—and the best places to get into the Waikiki groove.
カニ・カ・ピラ・グリル
Live music in Oahu doesn't get much better than at Kani Ka Pila Grille at the Outrigger Reef Waikiki Beach Resort. Here you can catch the island's hottest up and coming and established talent every single night by torchlight in the patio garden.
マウイ・ブリューイング・
カンパニー
Relax surrounded by air-conditioned bliss while you listen to live music at the popular Waikiki bar, The Maui Brewing Co. in the Waikiki Beachcomber hotel. It showcases a range of contemporary and traditional Hawaiian performers but also served up world-famous local craft beers—the perfect match.
ブルー・ノート・ハワイ
Sizzling sounds, surf and sand a-plenty at Blue Note Hawaii — Waikiki's chicest spot in the beachfront Outrigger Waikiki Beach Resort. Soak up the sounds of Hawaii's brightest musical talent and revel in the buzzing atmosphere underneath a canopy of stars. From Hawaiian folk music to jazz, reggae and RnB, there's something for everyone.
インターナショナル・マーケット・プレイス
So much more than just an upscale mall, this venue also offers frequent free live music performances day and night focusing on Hawaiian and Polynesian culture. There's a hula show every night accompanied by melodic Hawaiian music and you can also regularly catch captivating storytelling performances told through traditional Hawaiian and Polynesian song and dance after the ceremonial lighting of the flames in the Lamakū Torch Tower.
ワイキキ・ビーチ・ウォーク
This alfresco community space hosts regular live bands under a canopy of palm trees. Acts including folk and contemporary Hawaiian performers take to the stage weekly—sometimes accompanied by hula dancers.
デュークス・ワイキキ
Duke's Waikiki, named in honor of iconic local surfer Duke Kahanamoku, is a Waikiki Beach institution. A host of regular local acts appear throughout the week, but it's the live sessions on Sundays that are particularly legendary at this laid-back beachfront spot in the Outrigger Waikiki Beach Resort.
ml?emailAddress = "scrolling =" no "style =" height:280 px; "frameborder ="0 ">