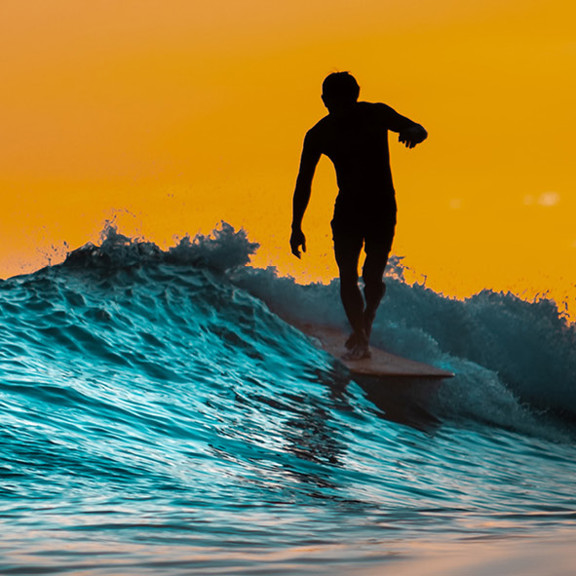 すべてのストーリーに戻る
TOMA注目アーティスト:Tommy Pierucki(写真家)
As peak surf season kicks off, Waikiki Beachcomber is bringing a taste of surf culture to guests - but you won't even need to get your hair wet.
The Beachcomber's TOMA (Terrace of Modern Art) surf-art exhibitions are showcasing artists who draw their inspiration from the famous beaches of Hawaii. The next big TOMA event kicks off at 6 pm on November 23 and features acclaimed surf photographer, Tommy Pierucki.
Every month, the pool deck next to Hawaiian Aroma Caffe at the Waikiki Beachcomber transforms into an open-air TOMA gallery. The breezy terrace is the perfect spot to enjoy the exhibitions as the sun sets over the city and the stars come out.
Visitors to each TOMA event can ask the artists questions about their work, sip hand-crafted cocktails, enjoy freshly prepared snacks and soak up the stunning views over Waikiki while a live DJ spins chilled-out beats on the decks.
And for anyone wanting to linger a little longer, Hawaiian Aroma Caffe is offering an all-day happy hour drinks menu, including a special signature drink served in a re-usable glass.
The next TOMA event in Waikiki highlights the work of celebrated surf photographer Tommy Pierucki. It was in the early 2000s that Pierucki first fell in love with Hawaii and rapidly became known as a talented surf photographer (with a passion for riding the waves himself, too). Pierucki grew up in Chicago but quit the 'windy city' in 2013 for the golden shores of Hawaii and hasn't looked back.
Over his career, Pierucki has been asked to shoot celebrities surfing including Spider-Man star Tom Holland and award-winning singer-songwriter Halsey. Pierucki has been featured in top surf magazines including the front cover of Longboarder magazines' 100th issue. He was also commissioned for photoshoots by major surf brands including Roxy and Billabong and received acclaim as a #RisingTide filmmaker at the 2019 Honolulu Museum of Art Surf Film Festival.
TOMA is free and open to the public - but come early! The first 100 guests receive a gift bag. Even better? All proceeds generated from sales of Pierucki's work will be donated to AccesSurf Hawaii, a nonprofit that focuses on creating community-based programs and events to help anyone with a disability enjoy the crystal-clear waters of Hawaii. 
As Waikiki's first lifestyle hotel, Waikiki Beachcomber is flying the flag for Hawaiian art and culture.
Get in on the action!
ml?emailAddress = "scrolling =" no "style =" height:280 px; "frameborder ="0 ">