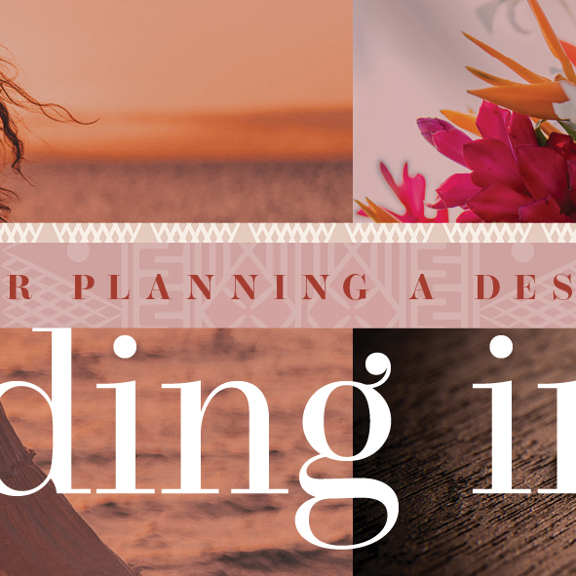 すべてのストーリーに戻る
フィジーへのウェディング旅行プランを立てる 5 つのヒント
Untouched beauty, tropical vibes. If you're looking to get married in one of the most sought-after destinations for all things romantic, then Fiji may be the place. Find a true bucket-list experience and wedding all in one with a destination wedding in Fiji—surrounded by the Bula spirit.
See the tips below to make the planning process easier, and to leave more time for sipping tropical cocktails under the South Pacific sun.
1. Visit Fiji Before Your Wedding
Visiting Fiji beforehand is essential to ensure you're prepared first-hand. Scout out the best Fiji wedding venue, and specific areas of the resort for the most scenic views and a picture-perfect setting. Visiting also allows you to get a feel for the islands, from adjusting to the time difference to planning for every detail—like what tropical-island flowers are in season during your wedding month. For example, tropical gingers and heliconias are available year-round, but frangipanis are only available September to mid-May. Also, make sure to familiarize yourself with the Fiji government's marriage requirements so there are no surprises on wedding day.
2. Help Your Guests Have the Vacation of Their Dreams
If you're planning a Fiji wedding, you've likely invested a lot of time into extensive research and have the logistics of a resort wedding in Fiji down pat. But although you may be familiar with all things Fiji, your guests may not feel quite as confident about the thought of jetting off to a remote South Pacific island. Help your loved ones feel prepared by providing cool travel tips. Devote an entire page of your wedding website to all you've learned about visiting Fiji, including where to stay, the easiest routes to get there, and insider information like where to go snorkeling or diving, the best spot for sunset cocktails, and advice on how to extend their trip to explore the various islands. 

3. Make Your Photos Worthy of a Magazine Spread
You're getting married in Fiji because of its breathtaking natural beauty, so make sure to make the most of it. Leave enough time for a thorough photoshoot with a qualified photographer to capture all the memories and the dramatically beautiful backdrop. You can also consider planning an additional photo session the day before or after your wedding for additional special-moment shots. 
For photoshoot inspiration, Instagram and Pinterest can be inspiring resources. Or, look through your venue's photos of past weddings to picture yourself at the end of the aisle. This can be a great way to show your photographer exactly what you're looking for when it comes to your ideal Fiji-islands wedding photos.
4. Choose an Unforgettable Venue
Fiji is beautiful no matter what, but choosing the right resort venue for your destination wedding can make or break the experience. Go the extra mile by interviewing venues before booking to confirm that they'll be able to provide the level of service that will make it your dream day. And while the wedding is the main event, don't forget to consider the days before and after—and, of course, the honeymoon. At hotels like the Outrigger Fiji Beach Resort, you can host the wedding at the main resort (from a chapel and poolside locale to a garden lawn overlooking the ocean), and then take a helicopter or cruise to their sister resort, Castaway Island, Fiji Resort, for a secluded, private-island honeymoon. (Make sure to ask about special offers, as venues like these may offer cool packages that include a few nights of your honeymoon for free.)
5. Match Your Dress to the Destination
Don't forget to consider the climate when picking out your wedding dress. Opt for slimmer cuts, lighter fabrics, and looks that fit in with the Fiji vibe. For outdoor or beach weddings, shimmering fabrics and embellishments look great in photos. Make sure to consider your wedding party's attire, too: Groomsmen may look handsome in full tuxedos, but lighter looks with fewer layers may be more practical if you want to hold the ceremony outdoors. And feel free to keep it casual—going barefoot is welcome (and beautiful!) in the islands of Fiji.
Feeling ready to take the next step? CLICK HERE TO GET STARTED!
ml?emailAddress = "scrolling =" no "style =" height:280 px; "frameborder ="0 ">