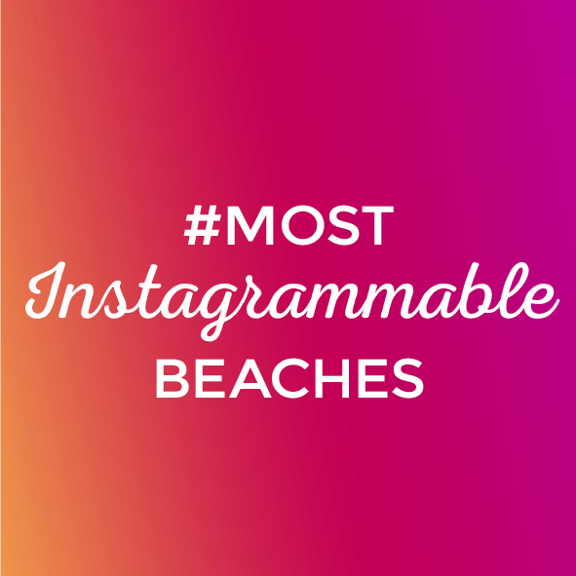 すべてのストーリーに戻る
The 6 Most Instagrammable Beaches: Hawaii Edition
We've said it before and we'll say it again: we're obsessed with being on the beach. We know the world's best beaches inside and out, and we're happy to share our knowledge of surf and sand. Whether you're looking to capture swaying coconut palms, fine white sand or surfers hanging ten, the Aloha State dishes out swoon-inducing Instagram beach scenes like these in spades.
We've put together a guide to Hawaii's six most Insta-worthy beaches—from laid-back Kalapaki on Kauai to jet-black Punalu'u on the Big Island.

1. Waikiki Beach, Oahu: Golden Sands and Action Shots
Waikiki boasts one of the widest stretches of golden sand on Oahu, which is not one beach but actually made up of several. Rent a surfboard, mount your action cam and ride the barrels where Waikiki beach boy Duke Kahanamoku played his part in reviving a sport once restricted to Hawaiian royalty. As the sun starts to descend, wind down with a SUP yoga session, which makes for ideal silhouetted Insta shots.

2. Kalapaki Beach, Kauai: Chill Views and Outriggers
On Kauai, Hawaii's oldest island, gravitate towards the east end of Kalapaki beach in Lihue. A natural harbor, it's famed for its calm, crystalline waters. Lay back on a lounger on the grassy strip set back from the sand, and zoom in on outrigger canoes gliding in and out of Nawiliwili Harbor amid gentle waves rolling across a shallow sandbar.

3. Kailua Beach, Oahu: An Iconic Pair of Islets
Sapphire waters and soaring ironwood trees for shade make unspoiled Kailua beach, on Oahu's windward coast, a firm favorite among locals. Turn up early to make the most of the sunshine, which dips below the Ko'olau Mountains as the day progresses. Jump in a kayak and shoot the picture-perfect twin Mokulua islets, which form part of the Hawaii State Seabird Sanctuary.

4. Makalawena Beach, Island of Hawaii: Paradise Found
A palm-dotted stretch of velvety sand, pale aquamarine waters and hidden coves make up secluded Makalawena beach on the richly biodiverse Island of Hawaii, or the Big Island. Located on the sheltered Kona coast, it involves a 20-minute trek along a lava trail but it's likely you'll have this pristine patch of Insta-paradise all to yourself.

5. Kapalua Bay Beach, Maui: Mandatory Sunset Spot
One of America's best beaches, crescent-shaped Kapalua Bay Beach in west Maui is blessed with gently shelving cobalt seas protected by headlands fashioned by lava flows. Bring your underwater camera to snap butterfly fish and Moray eels. Kapalua looks its best when the sun goes down and a purple-pink sky is mirrored in photogenic tide pools. 

6. Punalu'u Beach, The Island of Hawaii: Black-Sand Beauty
No Hawaii getaway is complete without kicking back on one of its renowned black-sand beaches. The often rough seas off of Punalu'u beach, on the southeast coast of the Big Island, may not make it suitable for swimming but the lava-sand landscape, lined with coconut palms, is jaw-droppingly dramatic. Arrive early to photograph Green Hawaiian Sea Turtles, honu in Hawaiian, eating seaweed and resting on the shore, but make sure to keep your distance. Capture your dream Instagram drone beach photo from above.
Inspired to explore Hawaii's top beaches for yourself? Click here to start planning your dreamy Hawaii beach vacation today.
ml?emailAddress = "scrolling =" no "style =" height:280 px; "frameborder ="0 ">