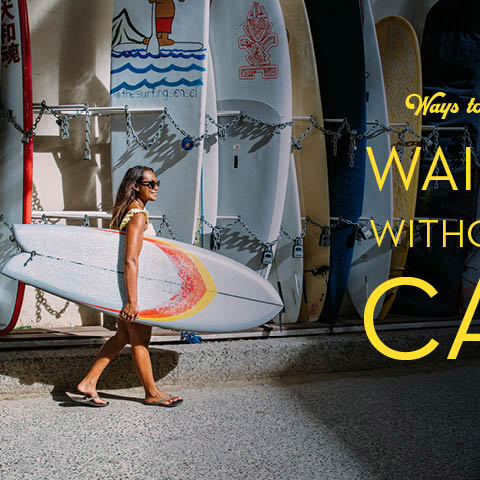 すべてのストーリーに戻る
車なしでワイキキを探索する3つの方法
There are a million reasons why visitors and locals alike love staying in Waikiki. There are the iconic beaches that give way to turquoise waters and the almost perfect year-round weather. But it's also the fact that Waikiki is so walkable and easy to stroll. You don't need to have your own car to see all that paradise has to offer while staying in Waikiki. Let's talk about some walkable, bike-able, and bus-able gems in Waikiki.
1. Walking: Stay at a Central Resort for an Easy Stroll to Lots of Hotspots
The gorgeous waterfront area near Waikiki Beach is what it's all about if you want to visit hotspots like Kapiolani Park, do a little luxury shopping on glamorous Kalakaua Avenue or simply watch the surfers. Both the OUTRIGGER Waikiki Beach Resort and the OUTRIGGER Waikiki Beachcomber Hotel are right in the center of the action.
Before starting your journey, stop by Duke's for breakfast. The banana and bacon French toast or the breakfast burrito are both great options to fuel your walk. After a bite, get lost in deep gazes of the Pacific at the Waikiki Beach Pier. Next, the fun, vibrant Waikiki Aquarium is the perfect stop on a proper walking tour of Waikiki (especially if you're bringing the kids along). Hit the refresh button after a day of strolling with a dip (and a movie!) by the pool.
Bonus Tip: Rumor has it that a Waikiki poke bowl tastes infinitely better after a long day of walking around paradise!
2. Biking: Two Wheels Get You (Almost) as Far as Four
You can also cover the waterfront area by bike if you want to try speeding from attraction to attraction with ease. Bike-sharing is an ultra-convenient option that allows you to pick up and drop off your wheels as needed. An option like a Biki bike from one of the Biki stations peppered throughout Honolulu is so simple.  You can also try a bike rental if you'd prefer. Here are some cool bike routes to try:
• The Waikiki Loop - This 4.3 mile bike route is a fun route that let's you see everything that Waikiki has to offer.
• Ala Wai Park Trail - Take a 20-minute ride on this scenic 2.8-mile trail, which runs on the mountain-side of the Ala Wai Trail.
• Ala Moana Beach Park - This ride is great for beginners. It takes you past Ala Moana Beach Park, Ala Wai Promenade, Kakaako Waterfront Park, Diamond Head, and Kapiolani Park!
• King Street - This is a longer trail, better for riders who have some experience. The 4.5-mile trail takes you from Moiliili to Downtown. It is quite popular with locals who want to avoid traffic when traveling to work downtown. It's a great way to check out some of Honolulu's best shopping. You'll travel on a protected bike lane, which separates bikers from automobiles.
3. Bus-ing: Set off for Adventure in One of Top Transit Systems in the World
If you're looking for a refreshing, stress-free way to get around Waikiki, hop on the public bus system. Did you know that Honolulu's bus system is ranked as one of the best transit systems in the world? It carries more than 72 million riders from point to point within paradise each year.
The routes that run through Waikiki offer a very safe, easy way to get to popular spots rather quickly. Most stops have a bus coming every 10 to 30 minutes. If you're looking to get out a little farther to destinations beyond Waikiki, transfers are easy. Some popular routes to make your journey light and breezy include:
- Waikiki to KCC Farmers Market and Diamond Head Trail
- Ala Moana Center to the Kaka'ako area
- Waikiki to Iolani Palace and Chinatown
- Waikiki to Ala Moana Mall
- Waikiki to the Aloha Tower Market Place
- Waikiki to Arizona Memorial in Pearl Harbor and Aloha Stadium
- Waikiki to Diamond Head Crater and Hanauma Bay Oahu
- Waikiki to KCC Farmers Market and Diamond Head Trail
Yes, getting to all of these must-see vacation spots really is as easy as hopping on a bus. Just make sure you're checking your routes twice because weekends and holidays sometimes have altered schedules. The big pro tip is to always look up the last departure of the night for any destination you're planning to travel to as a way to ensure that you can catch it.
Going Carless is Cool
When it comes to travel in Waikiki, there's no need for a car, especially if you're staying with us at a right-next-to-the-action OUTRIGGER resort. You can easily explore all of Waikiki by foot, bike, or bus—and we can't wait for you to join us for some 'going carless' travel fun!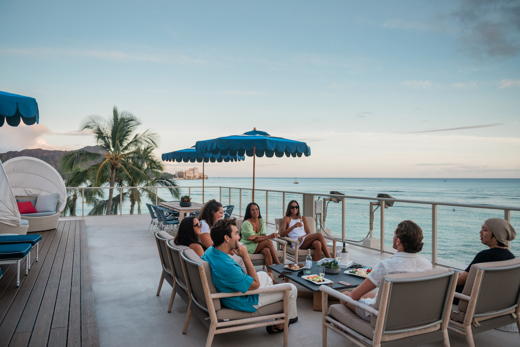 大切な思い出に変わる特別な瞬間を作りましょう。のびのびとしたビーチサイドでのコンサートから、夕暮れ時の親密なダイニング体験まで、私たちのリゾートは息を呑むような出来事で賑わっています。
それが、アウトリガーウェイ。