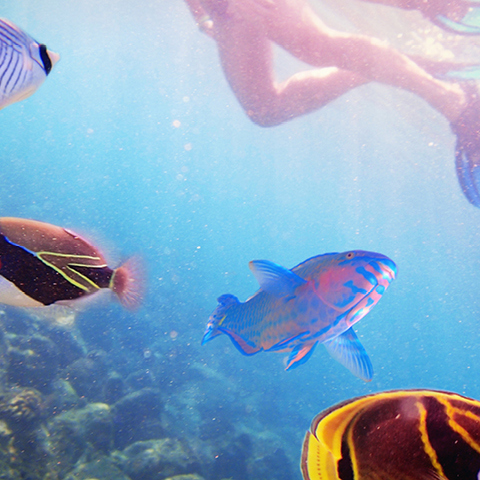 すべてのストーリーに戻る
Hawaii's New Sunscreen Ban: How to Shop for Reef-Safe Sunblock Now
Hawaii's stunning coral reefs serve as home to thousands of species of fish and marine life—and Hawaii is taking a stand to help make sure these beautiful reefs are safe. One of the biggest culprits to harming the reefs? Sunscreen.
Why Reef-Safe Matters Now
Globally, more than 25 percent of all marine life has some level of dependency on coral reefs for survival. But the chemicals found in sunscreens have been causing damage like coral bleaching to these delicate reefs.
The good news: Hawaii is taking action. As of January 2021, the ban state officials placed the sale and distribution of sunscreens that contain the two chemicals that are the biggest underwater pollutants—oxybenzone and octinoxate—is now in effect.
How to Buy: Look Beyond the Label
This means that if you're visiting Hawaii, it's essential to find a sunscreen that is reef-safe—but since even sunscreens that promise to be "reef-safe" may have harmful ingredients, it's important to read the full ingredient list. 
[X] Ingredients to Avoid:
• Oxybenzone
• Octinoxate
• Octocrylene
• Avobenzone
[✓] Ingredients that Get the Greenlight: 
• Titanium oxide 
• "Non-nano" zinc oxide (meaning the ingredient particles are above 100 nanometers in size so that they cannot be ingested by corals!)
The Aloha State Takes the Lead
Hawaii became the first state in the nation to ban sunscreens containing harmful ingredients back in 2018, and Outrigger has been leading the way since 2014 as the pioneer brand in HAwaii to promote reef-safe sunscreen. With its OZONE (Outrigger's ZONE) conservation initiative, Outrigger was one of the first to make a stake in preserving the Pacific's ecosystem. Aimed at protecting, preserving and planting coral reefs in the waters surrounding the resort brand's resorts across the world—from Hawaii to Fiji and Mauritius. 
The OZONE Initiative
The program has yielded impressive results, with increasing fish populations, shark colonies and coral propagation. OZONE serves as a model for responsible tourism geared toward replenishing and sustaining the natural environments that enrich guests' experiences, and has received praise from NOAA's Coral Reef Conservation Program for its contribution to helping visitors and tourists learn about the importance of preservation.
As muralist Erin Ibarra said of one of her works at Outrigger's Waikiki Malia hotel that she hopes it conveys a sense of importance of protecting the reefs as living, life-giving entities. 
"There are some really amazing corals in [the mural]—cup coral, black coral, and this image that looks like a rose is actually a naked mollusk, so there's are nudes in here." 
And this diversity and beauty is a reminder of how precious the coral life is.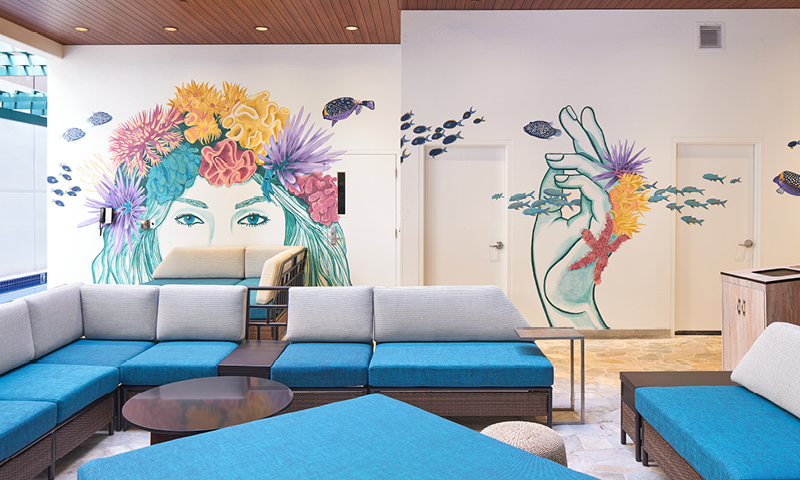 Make sure to plan ahead for traveling right by finding a clean sunscreen—and check into Outrigger's properties that are as cool as they are eco-friendly, offering complimentary All Good reef-safe sunscreen for guests at our pool decks.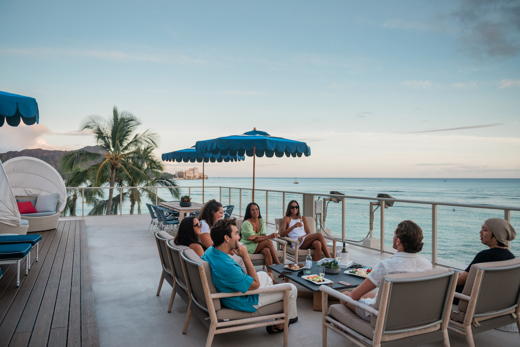 大切な思い出に変わる特別な瞬間を創り出しましょう。ビーチサイドでの自然発生的なコンサートから夕日を眺める親密な食事体験まで、私たちのリゾートは息をのむような出来事で賑わっています。
それが、アウトリガーウェイ。