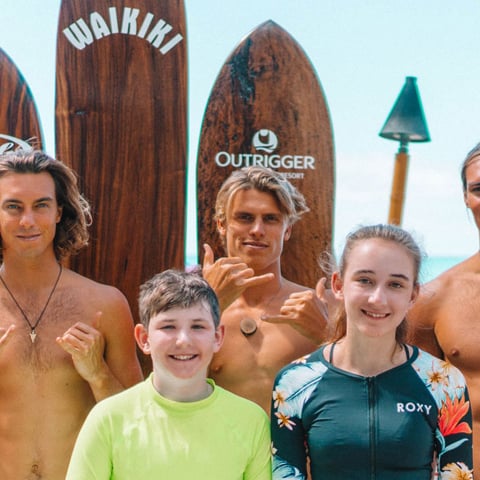 すべてのストーリーに戻る
Hanging Ten with our Surfers in Residence
From Duke Kahanamoku to Eddie Aikau, Oahu is world-famous for not only its iconic surf spots—but some of the top surfers to ever hit the waves. Our Surfers in Residence program celebrates the island's surfing heritage with guest talks and surf sessions with pro surfers and their families. Here's a roundup of some of our favorite Facebook Live chats with top surfers on Facebook Live.
Get up Close and Personal with Surf Legend Kelly Slater 
• Sit with the 11-time world champion as he describes the euphoria of riding a barrel. 
• Get to know his other passions, including golf, jiu jitsu, and music.
• Did You Know: Kelly is the youngest and oldest surfer to win the World Surf League title.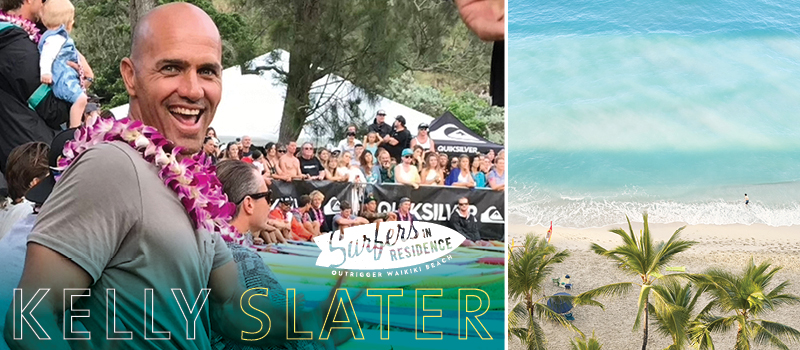 Tommy Pierucki Talks Surf Photography
• Hear about the captivating the beauty of Waikiki (and its surfers!) with world-renowned photographer Tommy Pierucki 
• Get the insider tip on how to respect Oahu's surf etiquette.
• Did You Know: Tommy caught his first wave at Waikiki's famous Baby Queens break.

Take a Paddleboard Ride on the Pacific with Tammy Moniz
• Experience the joy of paddle boarding the crystalline waters of Waikiki Beach from your home.
• Did You Know: Waikiki local and ambassador of aloha Duke Kahanamoku is known as the father of modern surfing.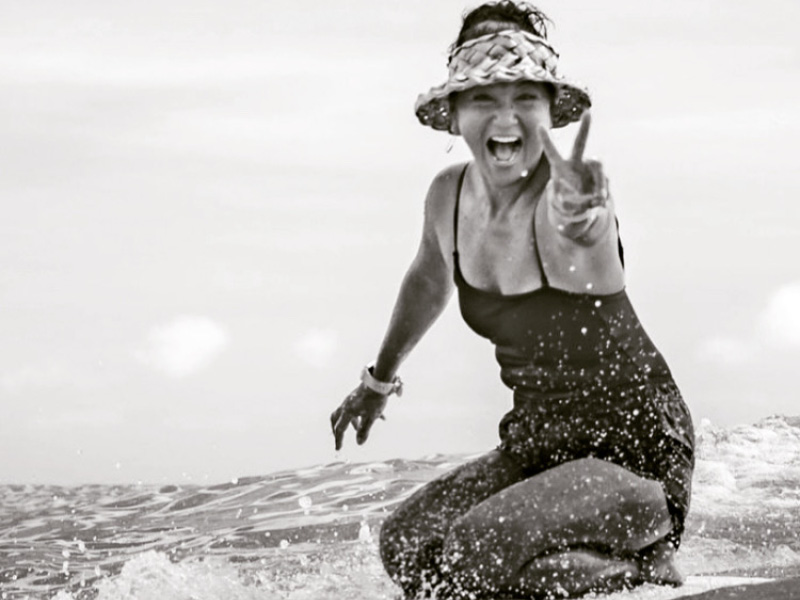 Learn About the Legacy of One of Hawaii's Top Surfers with Lyndie Irons
• The California native and wife of surf legend Andy Irons offers an insight into her life on the islands and campaign for mental health awareness through the Andy Irons Foundation.  
• Did You Know: A local surfboard brand spotted Andy Irons surfing with his brother on Kauai and flew him to Oahu to compete and hone his talents.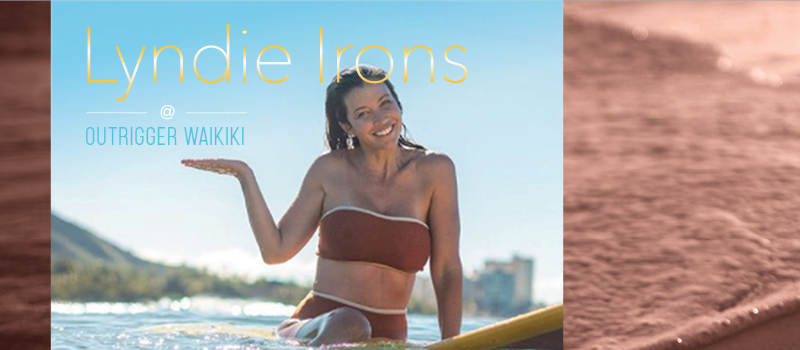 Hang out on Waikiki Beach with Former Pro Surfer Tony Moniz and Surf Instructor Tammy Moniz
• Get the scoop on fabled Waikiki surf breaks Canoe's and Queen's with pro surfer Tony Moniz and his surfer wife Tammy Moniz.
• Did You Know: You can take a personalized surf tour or an adventure on an outrigger canoe at Tammy and Tony's Faith Surf School  (located right on the beach in front of OUTRIGGER Waikiki Beach Resort)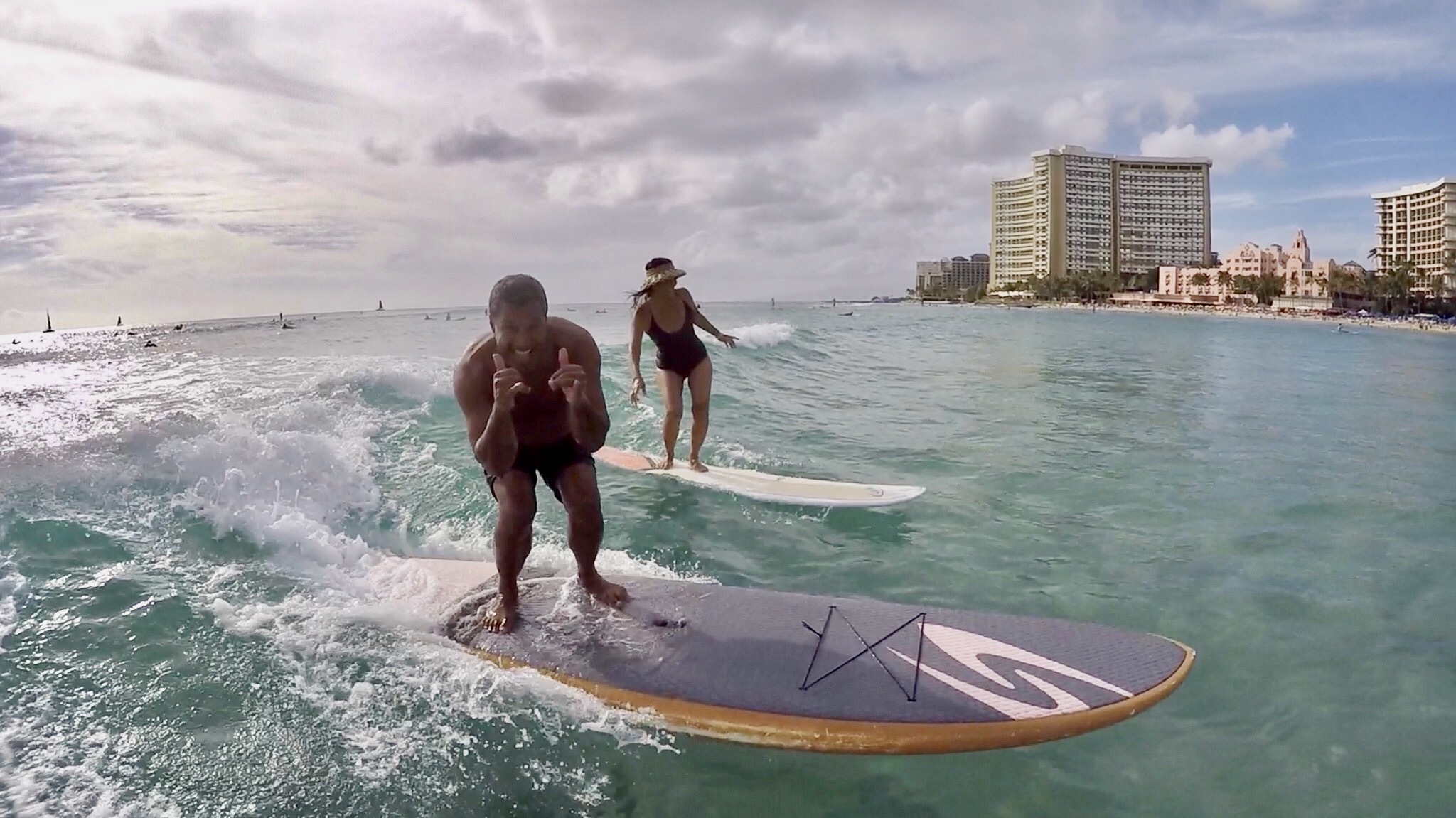 Surfer and Music Teacher Tiara Hernandez Drops In for a Singalong
• Tune in to hear Tiara and Tammy Moniz perform their co-written song I Love Hawaii.
• Hear about Tiara's arts and music festival for kids, Keikichella.
• Did You Know: Tiara is one of five siblings, one of whom is the singer-songwriter Bruno Mars.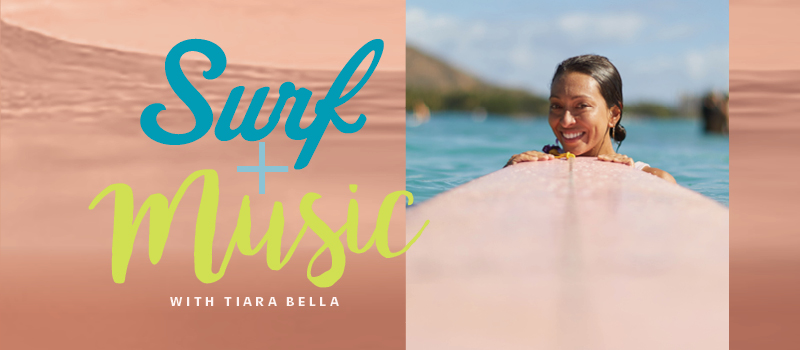 Pohaku Stone Chats About Board Carving and Malama 'Aina
• Listen as surfboard carver and waterman Tom 'Pohaku' Stone remembers riding waves with Duke Kahanamoku and the 'Uncles' of Waikiki Beach
• Get up close and personal as Pohaku shows his carving technique using a century-old block plane tool.
• Did You Know: Malama 'aina is the sacred Hawaiian ethos for taking care of the land.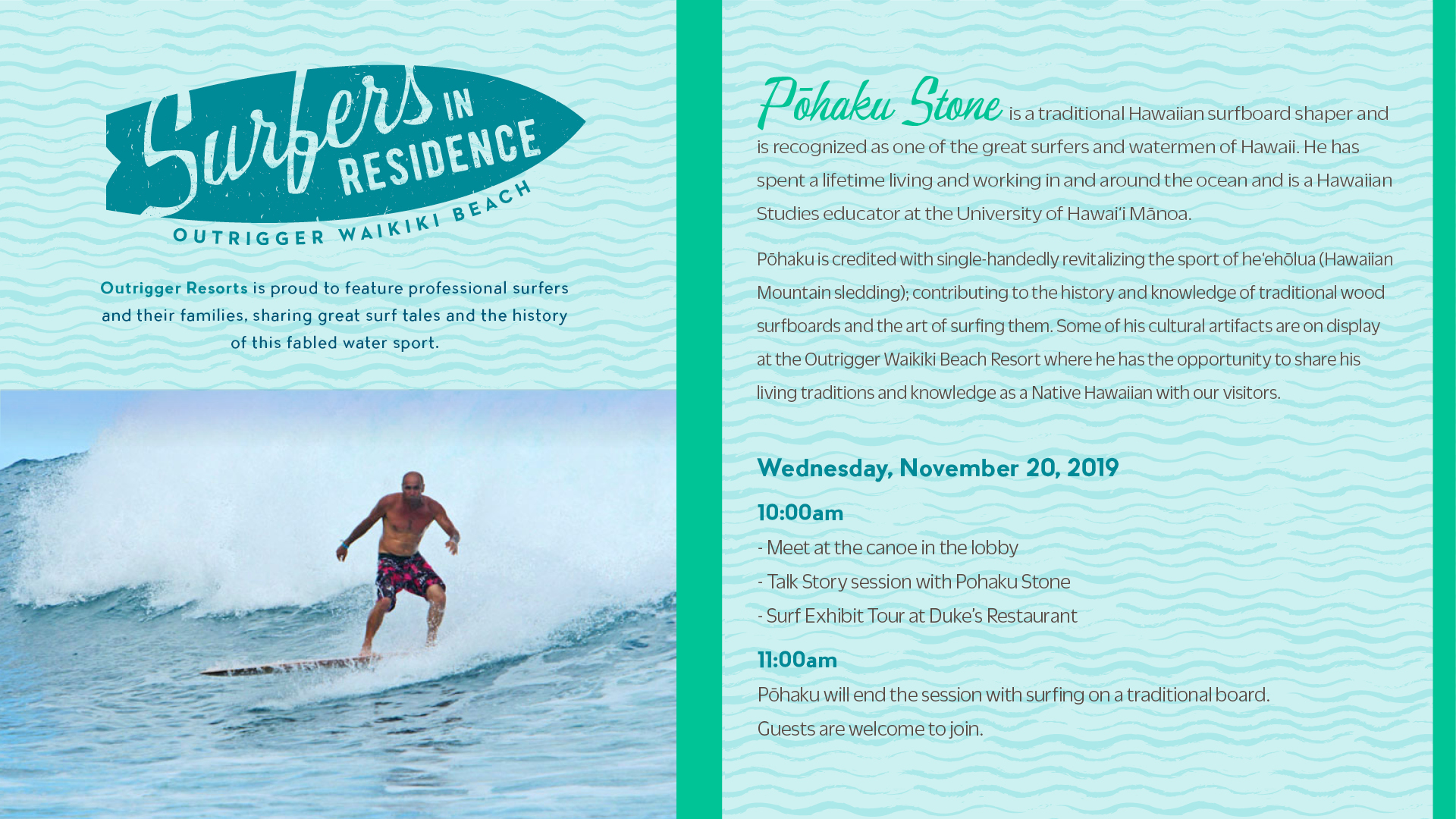 Meet the Two-Time World Champion Surfer Kelia Moniz
• Get Kelia's insider faves for dining at Duke's Waikiki. 
• Did You Know: Kelia and her four brothers are all pro surfers.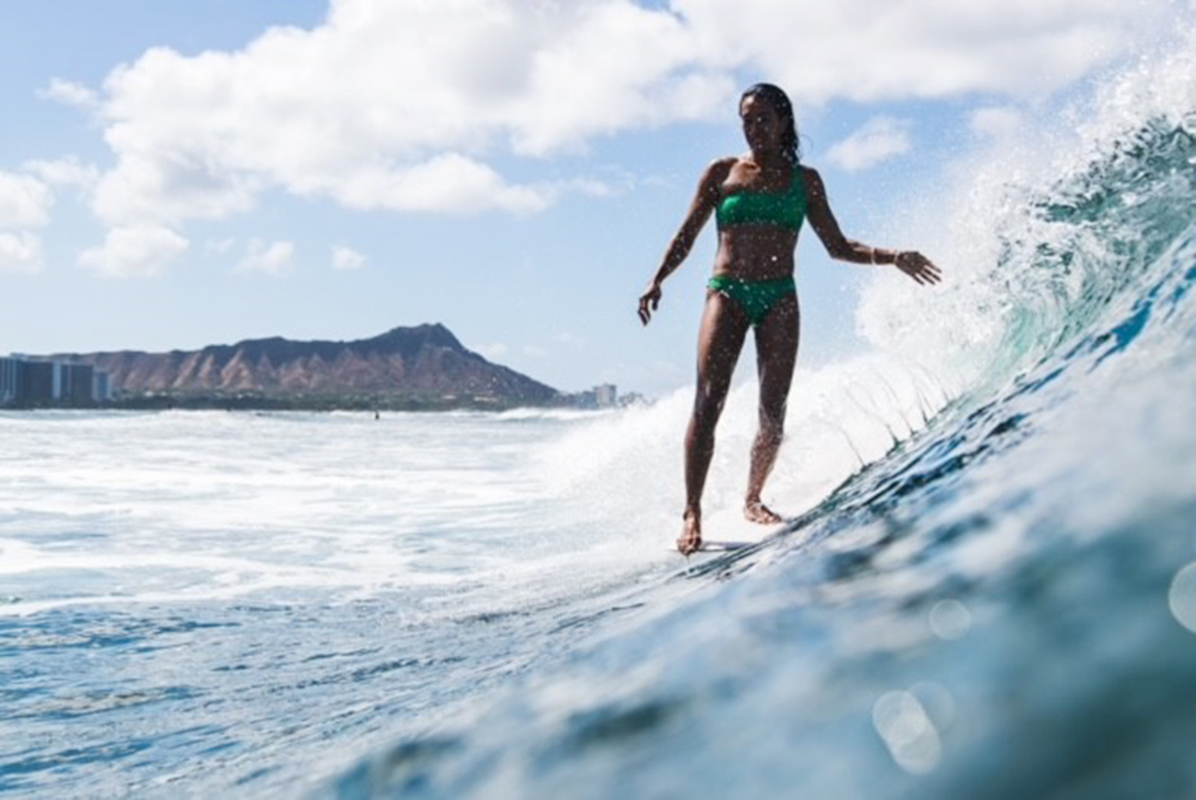 Model-slash-Pro-Bodyboarder Travis Smith Gives a Tour of the North Shore's Cutest Cafe Stand 
• See a demonstration of how to make the Sunrise Shack's famous organic bullet coffees.
• Hang out with Travis in the garden as he shares his passion for the islands, surfing, and a mean acai bowl.
• Did You Know: Travis co-founded the Sunrise Shack with his two brothers Alex and Koa and their friend, pro surfer Koa Rothman.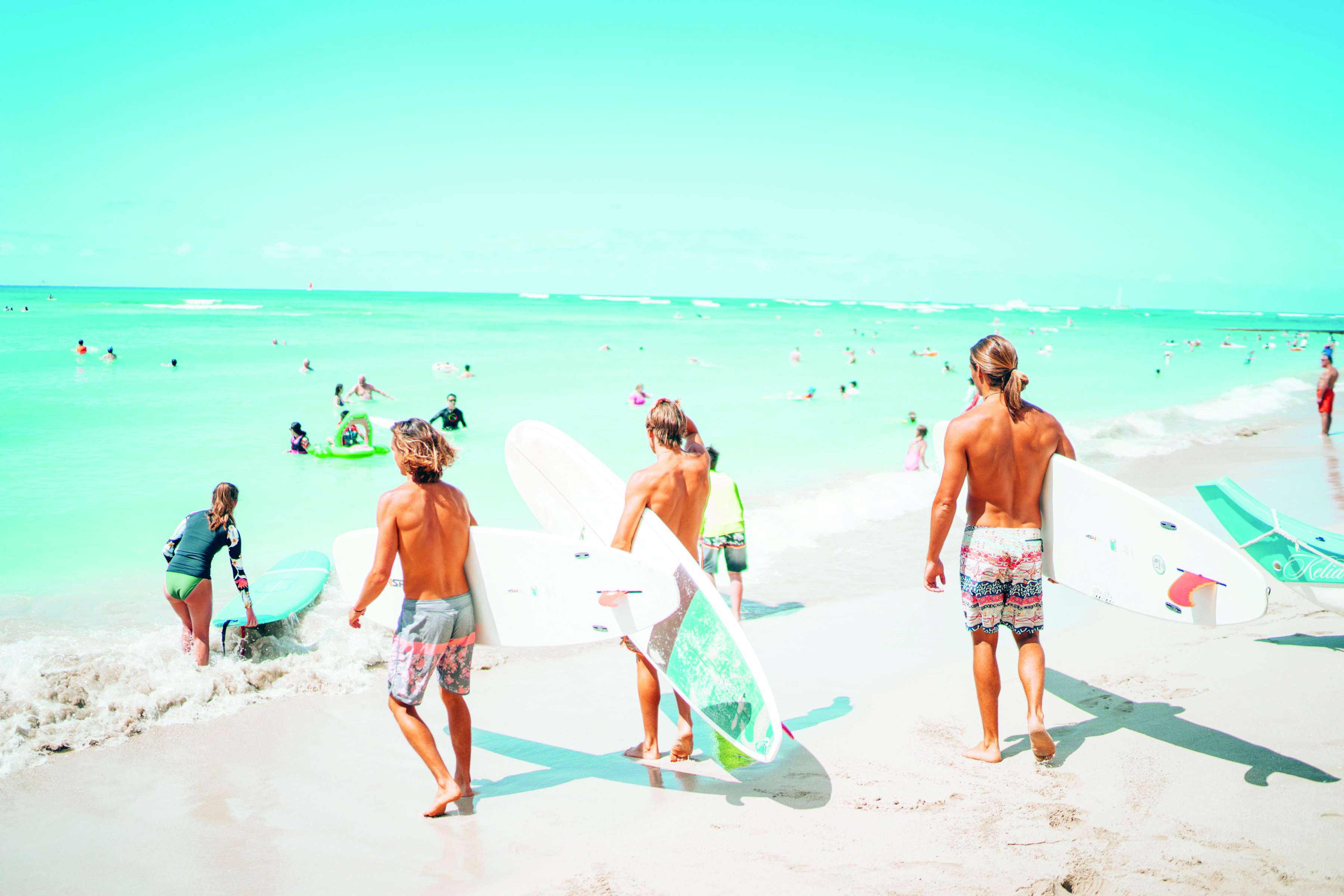 Follow the OUTRIGGER Waikiki Beach Resort to catch the next Live chats from our resident surfers.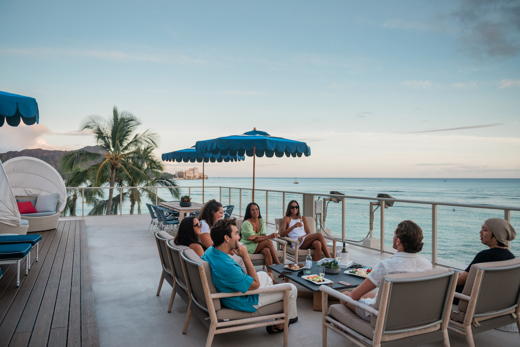 大切な思い出に変わる特別な瞬間を作りましょう。のびのびとしたビーチサイドでのコンサートから、夕暮れ時の親密なダイニング体験まで、私たちのリゾートは息を呑むような出来事で賑わっています。
それが、アウトリガーウェイ。