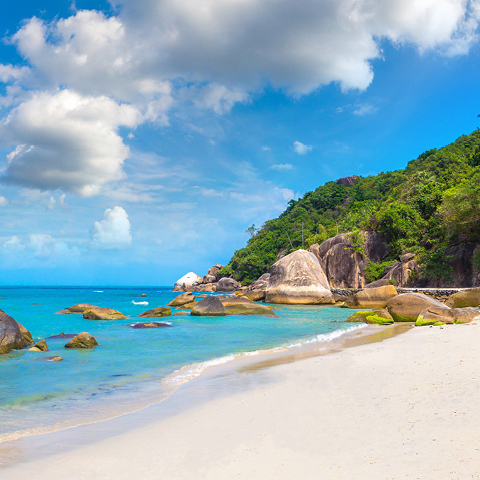 すべてのストーリーに戻る
サムイ島ビーチのベスト・ガイド
Probably the only hard task you'll have whilst visiting Koh Samui is deciding where to sunbathe! The island offers visitors an impressive choice of fine beach locations, each with their own special atmosphere and different options for activities and entertainment. Sealed roads make travelling to the different beaches and attractions easy and enjoyable. Without further ado, to help you find your way to white sand heaven we've compile our list of the best beaches on Koh Samui.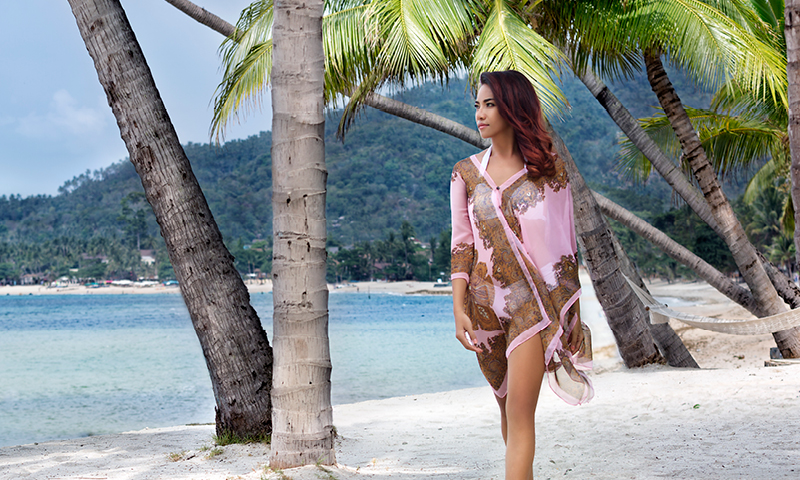 1. CHOENG MON BEACH
Basically encompassing the "corner" of Koh Samui, Plai Laem and Choeng Mon wrap around roughly two kilometres of beachfront on Samui's northeast corner, with Plai Laem running up the west coast of the peninsula from Bang Rak and the Big Buddha followed by a series of small bays dotted across the northern coast, and then finishing with Choeng Mon and Koh Fan Noi running down the east. Chong Mon area in particular is resplendent with secluded bays, quiet back roads and breaking surf on huge granite rocks. You can go from a luxury resort into genuine Thai village life in a matter of minutes. With only a small number of accommodations options available, ranging from modest boutique to five-star properties, this is the perfect base for a relaxing beach vacation. Off the beach, a gaggle of tourist-focussed restaurants and bars line the main road. It offers isolation while being close to the busier hub of Chaweng (just a 20-minute ride in a taxi or songthaew).

2. CHAWENG BEACH
Located in the northeast, just south of Choeng Mon, this is where most islanders reside. Koh Samui's busiest and biggest town has sprung up around one of the island's best beaches. This is Samui's longest (7km) and busiest beach. Judging by looks alone, it's up there with the very best beaches in Thailand. In the early morning, before the crowds and hawkers descend, it's easy to see why this was the first beach area to lure tourists to the island. Naturally, as one of the nicest places to catch some rays, this is without a doubt the most popular part of the island for tourists. The town offers a plethora of accommodation, dining, drinking, shopping and nightlife options.

3. LAMAI BEACH
Heading south of Chaweng by about 30km you will arrive at the beach and village of Lamai. On the one hand it's a quaint town, on the other it's Samui's second-largest resort area (after Chaweng); providing all the amenities one would require for a tropical vacation. There is plenty of accommodation available to suit every budget as well as a variety of dining options, cheap food carts, bars, shopping, convenience stores and more. Boasting a beautiful long stretch of white sand, it's absolutely perfect for kicking back and relaxing or simply enjoying a quiet swim. Lamai is a little out of the way, making it the perfect destination for those looking for a quieter, more peaceful vacation; though everything you could want is just a few steps away from the beach.

4. THONGTAKIAN BEACH
This is one of the most idyllic and beautiful small beaches on Samui. Also commonly known as Silver Beach (easier translation) it is located between Chaweng and Lamai. Although it cannot be spotted from the road, it's definitely worth hunting out. The crystal clear waters are very secluded and enticing, with the snorkelling activities on offer here some of the best available on the island. With soft white powdery sand and crystal-clear shallow waters, this beach is absolutely beautiful and unspoiled. Lined with a couple of smaller boutique hotels and a modest beach bar restaurant, it really is a small hidden gem on the island and not one widely known by most visitors.

5. MAENAM BEACH
Lying to the west of Choeng Mon, is stunning Maenam Beach, about a half hour drive from the busy town of Maenam. The beach runs for 7 pristine kilometres, and is favoured among windsurfers due to the currents and winds, which pick up on the north side. On the flip side, this means the waters here are not as calm and clear as those in other areas; this is a place for water sport enthusiasts, not snorkelers or sunbathers. With predominantly low budget beach bungalows, cheap and cheerful food options and an emphasis on water sports, this are is renowned as Samui's last predominantly backpacker hangout.

6. BOPHUT BEACH
Located on the north coast, between Mae Nam to the west and Bang Rak in the east, the beach itself curves in a perfect three-kilometre-long crescent. The view of anchored sailboats with mountainous Koh Phangan the background looks almost more Mediterranean than Thai. The focal point is Fisherman's Village, once an actual base for fishers that gradually transformed into a cluster of tourist-oriented shops, art galleries and eateries. While the village is worth a look at any time, it really wakes up for the Friday evening 'walking street' that's widely considered the best night market on Samui. Unlike other beaches with their sleazy bar areas, all of Bophut is suitable for kids. Families tend to have good experiences staying here, along with young backpackers and older couples.

7. BANG PO & BAN TAI BEACHES
Bang Po Beach is an isolated piece of coastline in the north of Koh Samui. Far removed from the popular resorts on the island's east coast, Bang Po offers a taste of Koh Samui as it was 20+ years ago. At almost six-kilometres-long, Bang Po is one of Koh Samui's largest beaches. Overall it's quiet, un-crowded and clean, with reasonably clear water and none of the noise from speedboats and jet-skis that can ruin the atmosphere on other beaches. A small coral reef located a short distance from the beach makes it a reasonable place to snorkel too. As Bang Po is on Samui's northern coast, the entire beach has a great view of Koh Phangan. Ban Tai Beach, a small 'secret' beach at the eastern end of Bang Po is a great place to enjoy Samui's stunning coastline without any crowds.

8. BANG RAK BEACH
This beach on Koh Samui's north coast (less than 1.6 km from the airport) is a favourite with the young and trendy set. Bang Rak Beach is one of the less touristy beaches on Koh Samui, but it certainly deserves more attention. Bars, restaurants and resorts line the beach from east to west, interspersed with old wooden piers jutting out of the soft, white sand. As a favourite drop-off point for those travelling by boat to full moon parties at Koh Phangan, it has long been the hangout for younger travellers. There is, however, plenty to see and do regardless of your age or budget, from relaxing on the beach or visiting the nearby Big Buddha statue, or going out to the bars and restaurants in the evening.

If we have enticed you to explore all the beaches listed above and more, let us help you find the perfect accommodation! OUTRIGGER Koh Samui Beach Resort on Lamai Beach is perfectly situated to help you explore the entire island to its utmost.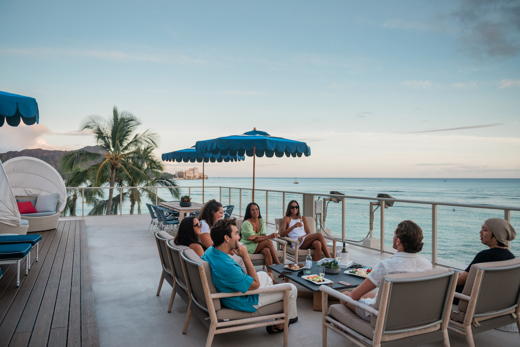 大切な思い出に変わる特別な瞬間を創り出しましょう。ビーチサイドでの自然発生的なコンサートから夕日を眺める親密な食事体験まで、私たちのリゾートは息をのむような出来事で賑わっています。
それが、アウトリガーウェイ。