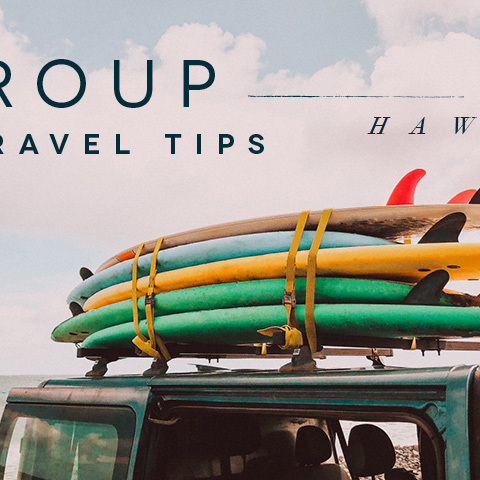 すべてのストーリーに戻る
アロハ・ステートでのグループ滞在に最適な2つの場所
You're coming to Hawaii with a group! The energy and excitement are likely very high following the decision, but the reality of planning a trip with a large group—and large expectations!—can be daunting. Fortunately, we have some great spots that are perfectly suited to accommodate groups whether you are planning anything from a bachelor beach bash to a family reunion to a girls' getaway to a conference retreat.  Here are two jaw-dropping resorts perfect for groups.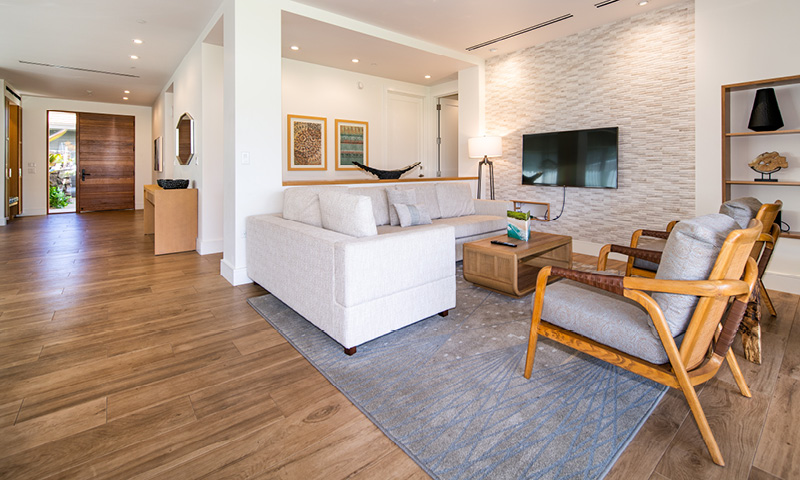 Luana Gardens Villas | Honua Kai Resort & Spa | Maui
Who Will Love It:  Smaller groups seeking the comfort and intimacy of staying in a home away from home in paradise.
Offering true pampering for up to eight guests per villa, the Luana Gardens Villas will make paradise feel like a second home. Each 3BR/3BA villa will feel like your own private oasis with two master suites with their own en-suite bathrooms and a gorgeous interior spanning over 2,000 square feet.
The gourmet kitchen is stocked with state-of-the-art appliances, and the true highlight of each villa is the private lanai offering a beautiful place for dining and relaxing outdoors with help from an outdoor kitchen with a 35-inch gas grill. There's also a swimming pool, hot tub and fire pit, making it the perfect mix of space, privacy and luxurious perks for groups. From boogie boarding to snorkeling, there's something for everyone in your group. And with direct beach access, there's nothing to stand between you and a fun day in the sun!
Navigator Floor | Outrigger Reef Waikiki Beach Resort | Oahu
Who Will Love It: Large groups seeking a posh, high-end experience in a collection of suites that breaks records for size.
Guests looking for a more traditional "hotel experience" that's been ramped up to accommodate groups will enjoy the Navigator Floor at Outrigger Reef Waikiki Beach Resort. This elite space consists of a cluster of four suites designed to be grouped together, which is perfect for group getaways because you are able to enjoy the privacy of your own suite while being close to the rest of your party—making it perfect for everything from family getaways to wedding festivities.
Want to make your group vacation even more epic? Opt for the Reef's Navigator Experience. When you book the Navigator Experience, you're getting a "penthouse in paradise" that opens access to five bedrooms spread across four penthouse suites that cover 10,000 square feet of living space. Booking the full floor gives you room for up to 18 people, and the Navigator Experience also includes access to the resort's Voyager 47 Club Lounge for locally-sourced pūpū (appetizers) at sunset, and the opportunity to explore the sea on the Noelani, a 75-foot yacht featured on The Travel Channel.
You'll also break a record if you stay on the Navigator Floor at Outrigger Reef. Yes, this exceptional collection of suites boasts the largest private deck in all of Waikiki. Enjoy dining, drinks, bonding and incredible views while spreading out over 4,000 feet of deck space.
Get the Group Excited
With Outrigger, you get to choose if you want an experience that's posh and polished, laid back and casual or something in between. Our beautiful villas and suites are designed to cater to groups of all sizes by offering that magical mix of privacy and connection. Let the group know you've found your spot by selecting an Outrigger group booking that's just your size today!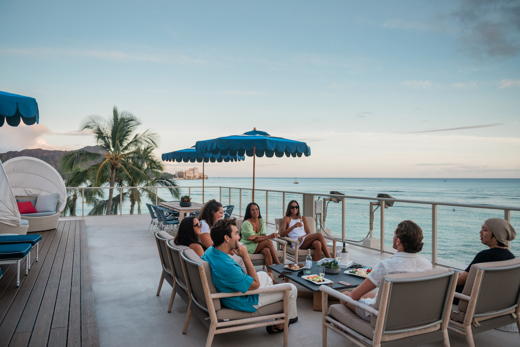 大切な思い出に変わる特別な瞬間を創り出しましょう。ビーチサイドでの自然発生的なコンサートから夕日を眺める親密な食事体験まで、私たちのリゾートは息をのむような出来事で賑わっています。
それが、アウトリガーウェイ。