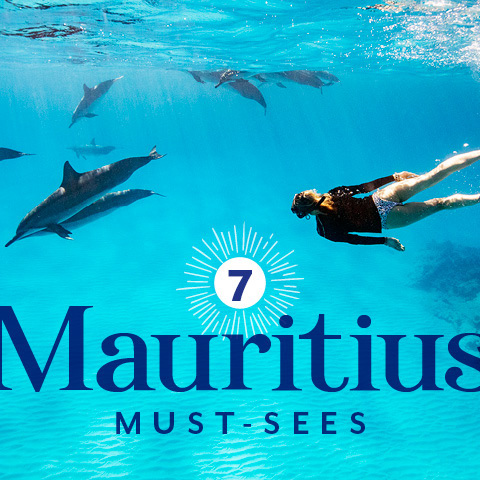 すべてのストーリーに戻る
モーリシャスで必見の7スポット
From romance to some of the most epic coastlines in the world (think cerulean seas on one side contrasted by lush vegetation on the other), Mauritius is a traveler's gem nestled 2,000 miles off the southeast coast of Africa. Enjoy a little adventure—swimming with dolphins! kitesurfing! culture and dance!—or relax into romance in waterfront villages.
1. Climb Le Morne Brabant Mountain
A UNESCO World Heritage Site, Le Morne Brabant Mountain, is spectacular for its natural beauty and historical significance. Once a fortress to shelter escaped slaves through the 18th and early 19th centuries, this cultural landscape is a storied symbol of the universal ideals of individual freedom and the struggle for liberty.
Take the 7 km hiking trail to pass by verdant vegetation and cave croppings before the summit gives way to views of the Mauritius lagoon and the surrounding Indian Ocean islands.
Insider Tip: Hiking with a guide is recommended, as the second part of the hike involves bouldering, which is much easier with a guide.
2. Island-Hop by Boat
No trip to Mauritius would be complete without venturing to the beautiful surrounding islands. Head to those off the southeast coast like Île de la Passe, Ile aux Flammant, Ile Phare, and Ile des Deux Cocos for untouched beaches and snorkeling in crystal-clear lagoons.
Insider Tip: Try a private catamaran cruise with live music and fresh-catch cuisine.
3. Sample the Street Food
Mauritian street food brings a unique decadence, from dhal puri (split-pea pancakes) filled with herbs to gateaux piments (fried chili cakes). Another street market staple: the roti chaud, a flavorful, curry-filled flatbread.
Insider Tip: Try the very Mauritian bean curry-filled dhal puri for a local-love favorite.
4. Swim with Dolphins
Adventure is said to be a great aphrodisiac and as one of the most romantic places in the world, Mauritius is the perfect place to explore your adventurous side, too.
One of the must-see's in Mauritius: swimming with dolphins. Take a boat tour out, and then put on snorkeling gear and dip into the clear turquoise waters to get up close and personal with these majestic creatures.
Insider Tip: Check out Outrigger Mauritius's Dolphin Tours for up to four people, including swimming with dolphins, snorkeling, snacks and drinks.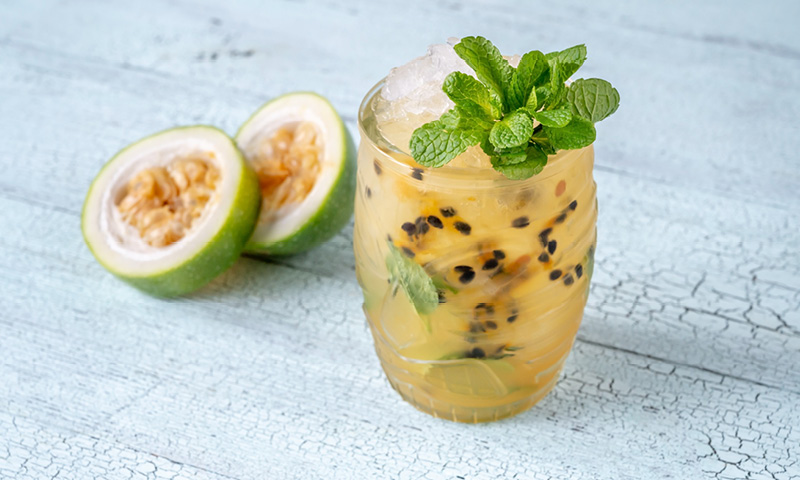 5. Try a Passion Fruit Mojito
One of the top places to stay on the island is the beachfront Outrigger Mauritius in Bel Ombre. You'll be surrounded by coastal beauty—and excellent taste. The Plantation Club onsite restaurant is known for its Mauritian fusion cuisine and sugarcane field views. One of the classic favorites is the Passion Fruit Mojito, a mocktail made with fresh passion fruit puree, fresh lime, mint leaves and a splash of sprite.
Insider Tip: Experience the iconic taste of Mauritian rum with a post-dinner cocktail at the Rum Room (reservations required).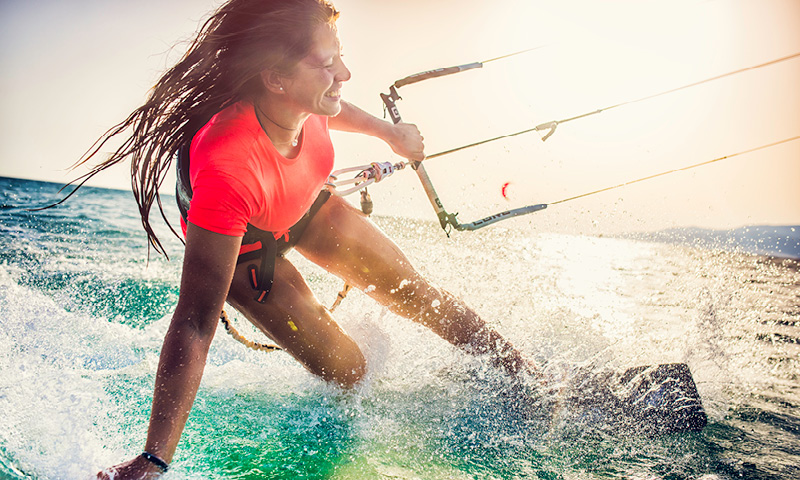 6. Go Kitesurfing
With its year-round tropical climate and stunning turquoise waters, Mauritius is one of the top destinations in the world for watersports—and kitesurfing is among the favorites. Whether you're just getting started on a twintip board or ready to start jumping, the reliable winds and range of both perfectly flat waters and world-class waves make it the ideal spot for all levels.
Insider Tip: First time? Try a lesson with KiteGlobing in partnership with Outrigger Mauritius, with private, semi-private, and family kitesurfing lessons available from experienced instructors that are VDWS certified (or equivalent).
7. Roadtrip along the Wild South Coast
The southern coastal road in Mauritius is one of the most scenic routes in the world. After a morning hike at the aforementioned Le Morne Brabant Mountain, head a few kilometers south for your first road trip stop at Maconde, a famous curved patch of road with an iconic viewpoint overlooking the Indian Ocean. Next, stop by the quaint village of Baie du Cap, and then stop by a few of the top beaches, including St. Felix and Gris Gris. For top kitesurfing (or watching!), check out the famous Pointe d'Esny, and then finish off the trip with a seaside stroll (and maybe a little fish curry) along the Mahebourg waterfront.
Insider Tip: Try a little more adventure with a helicopter ride to see the iconic "underwater waterfall," a magical illusion of sand and water just off the coast of Le Morne.
For Mauritius exploration, come soon and stay in the heart of the southern coast at the five-star Outrigger Mauritius Beach Resort—the perfect jumping-off point for must-see adventures!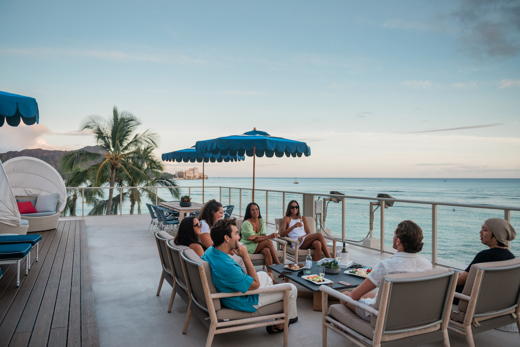 大切な思い出に変わる特別な瞬間を創り出しましょう。ビーチサイドでの自然発生的なコンサートから夕日を眺める親密な食事体験まで、私たちのリゾートは息をのむような出来事で賑わっています。
それが、アウトリガーウェイ。