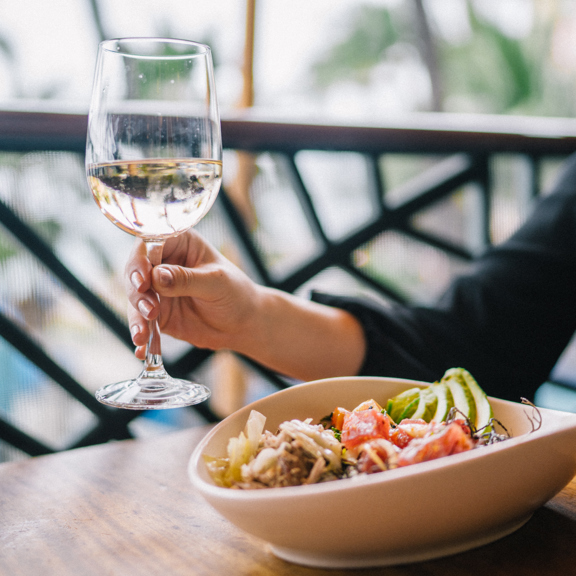 すべてのストーリーに戻る
上4ワイキキで試したいグルメ
"Fresh and fun" is the vibe for Waikiki's food scene. Popular Waikiki eateries blend local tropical sweetness with savory influences to create satisfying and refreshing flavors that truly send your taste buds on vacation. What are the must-try foods if you're craving something purely Hawaiian during your stay in Waikiki? Check out the top four foods to try in Waikiki.
1. Hula Pie at Duke's Waikiki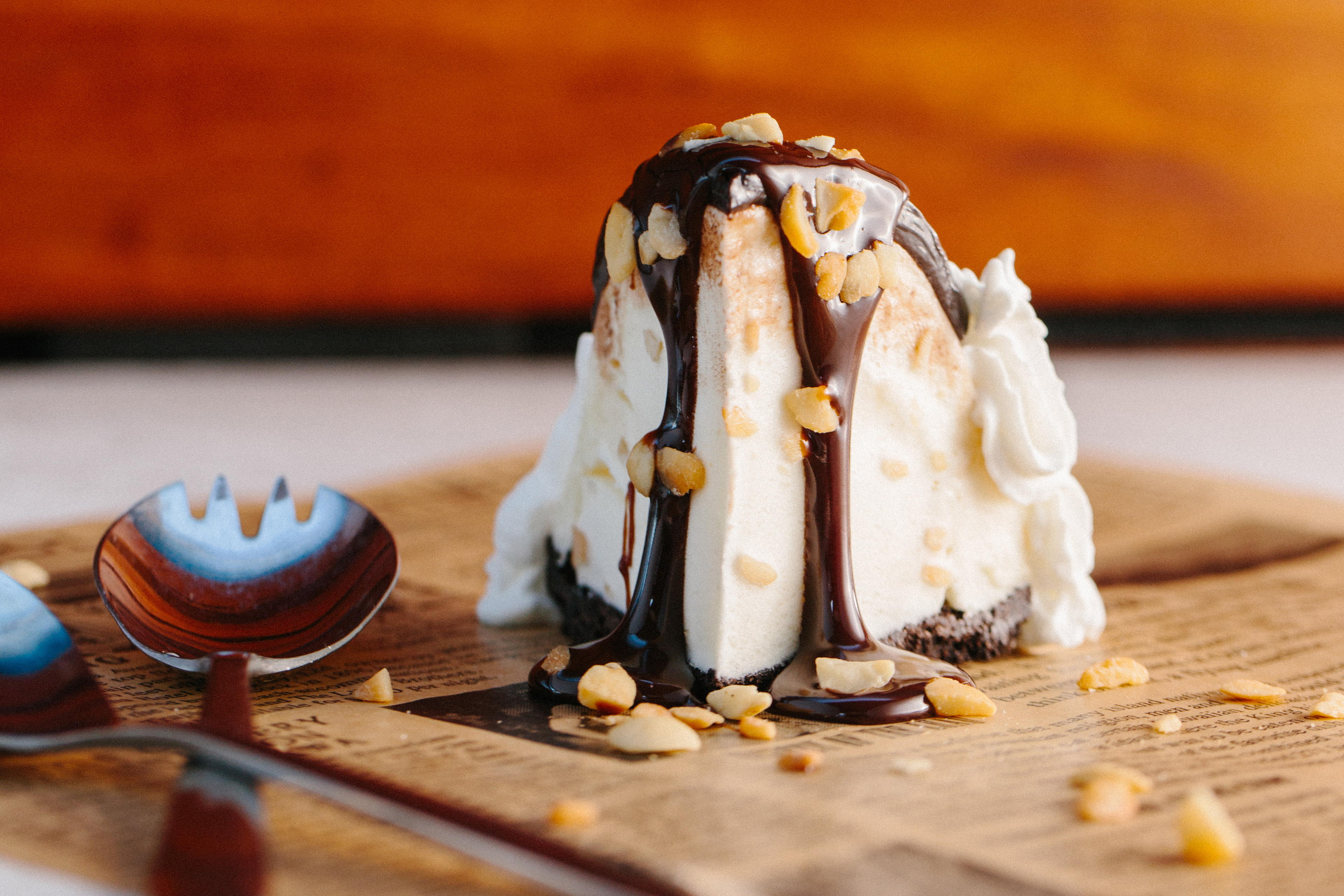 Duke's Waikiki is an enduring local culinary institution that offers what many consider Honolulu's best dining experience, and it doesn't get much more iconic than indulging in a Duke's Hula Pie right on the shores of Waikiki Beach. Dipping a spork into one of Duke's famed hula pies reveals layers of pure bliss. The pie is made of macadamia nut ice cream stacked high on a crust made of chocolate cookies. Next, a layer of chocolate fudge over the ice cream creates the perfect texture in your mouth. Finally, the pie is drizzled with hot chocolate fudge that drips down each side like the sweetest volcanic debris. Of course, we can't forget that whipped cream "hula skirt" wreath around the bottom of each slice and the roasted macadamia nut pieces to top it all off! 
2. Pineapple Crème Brulée at Kani Ka Pila Grille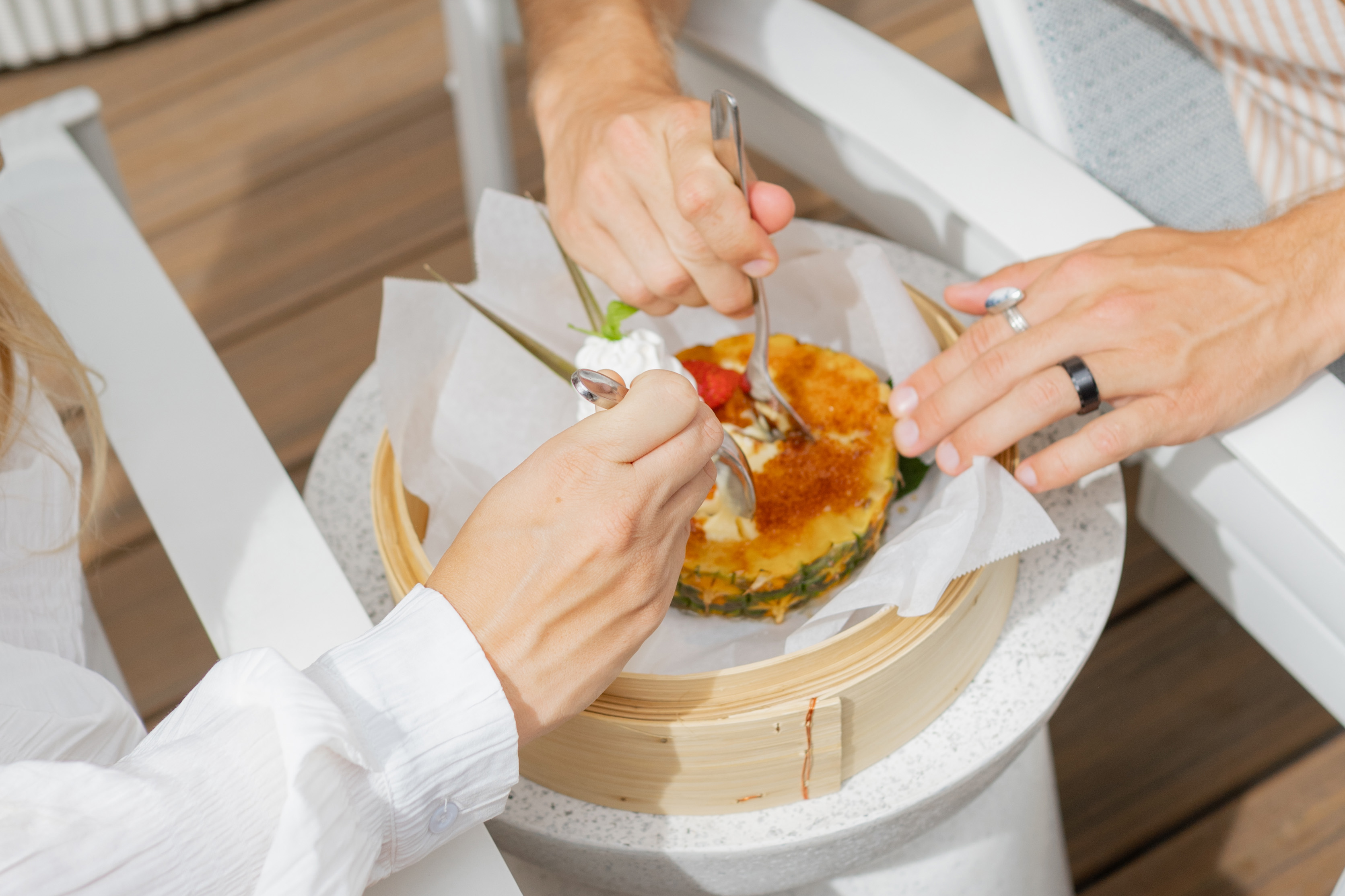 The poolside dining experience, famed open stage with nightly live Hawaiian music and wildly popular pupu appetizers would make anyone eager to book a table at Kani Ka Pila Grille. However, what's waiting at the bottom of the menu makes this one of the most essential spots for Waikiki food culture. Get ready for Kani Ka Pila Grille's pineapple crème brulée! 
Nestled among tiramisu served with Kona coffee, a loaded brownie and white chocolate raspberry cheesecake on the dessert menu, this tropically inspired crème brulée satisfies the sweet tooth with caramelized pineapple, vanilla custard, strawberry and whipped cream — all served inside a fresh pineapple. 
3. Kona coffee at Hawaiian Aroma Caffe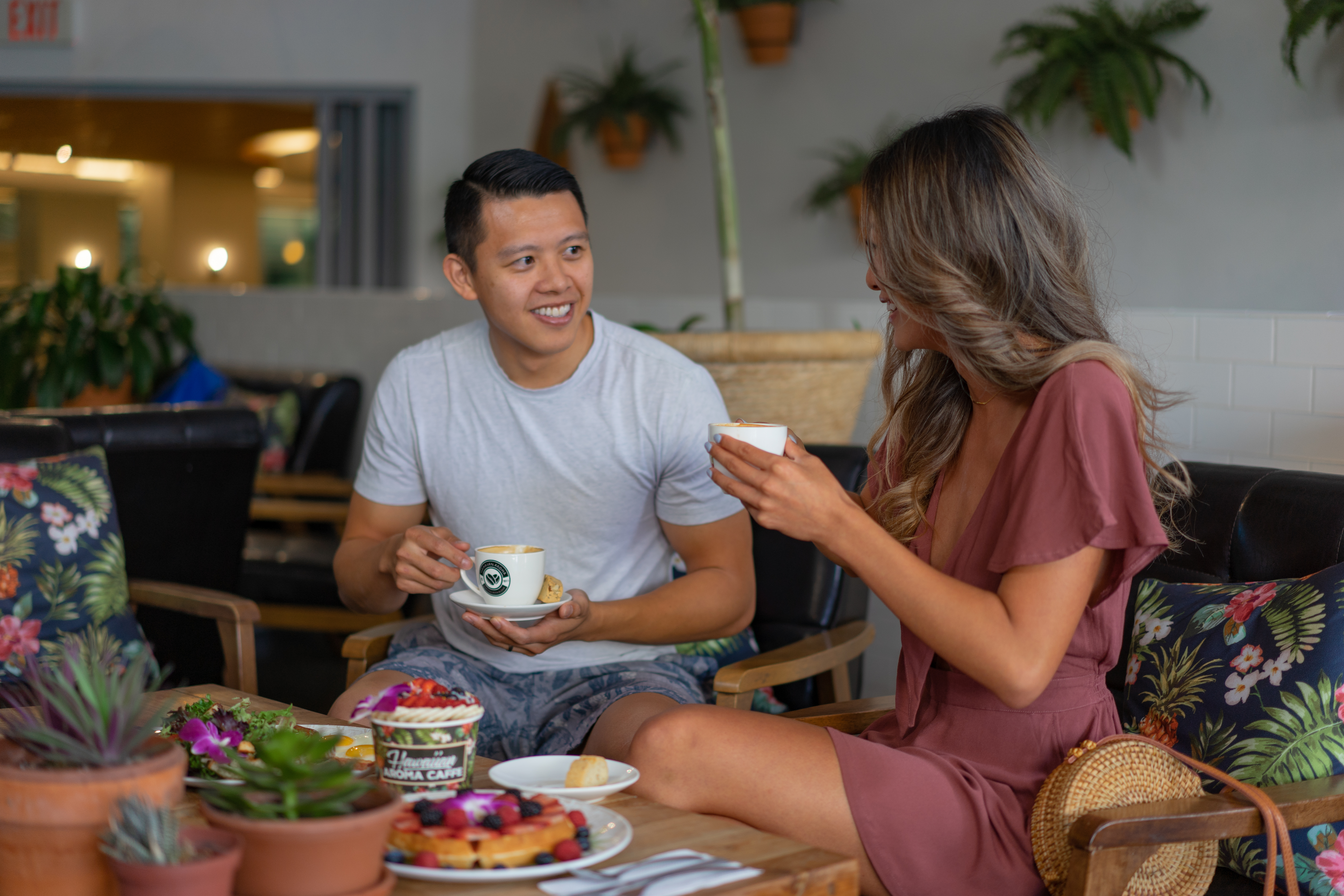 While Waikiki's sunshine is often the only caffeine people need, there are times when getting a little bit of vitamin "C" stands for coffee. The best place to do that is at Hawaiian Aroma Caffe, the most Instagrammable cafe in Waikiki, with a cup of Hawaii-exclusive Kona coffee. Highly prized Kona coffee is unlike any other coffee in the world because it is cultivated exclusively on the slopes of Hualalai and Mauna Loa in Hawaii's Kona District where the rich volcanic soil adds to the allure of these prized beans.
Hawaiian Aroma has earned international accolades for its impeccable custom roast. Integrating old-world Italian methods, contemporary techniques and that undeniable Hawaiian aloha spirit, Hawaiian Aroma makes every cup count. Coffee lovers will find just about every style and flavor on the menu's hot and iced versions. While incredible coffee is the big draw, Hawaiian Aroma Caffe has also earned social media fame for its stunning and satisfying acai bowls.
4. Local craft brews at Maui Brewing Co.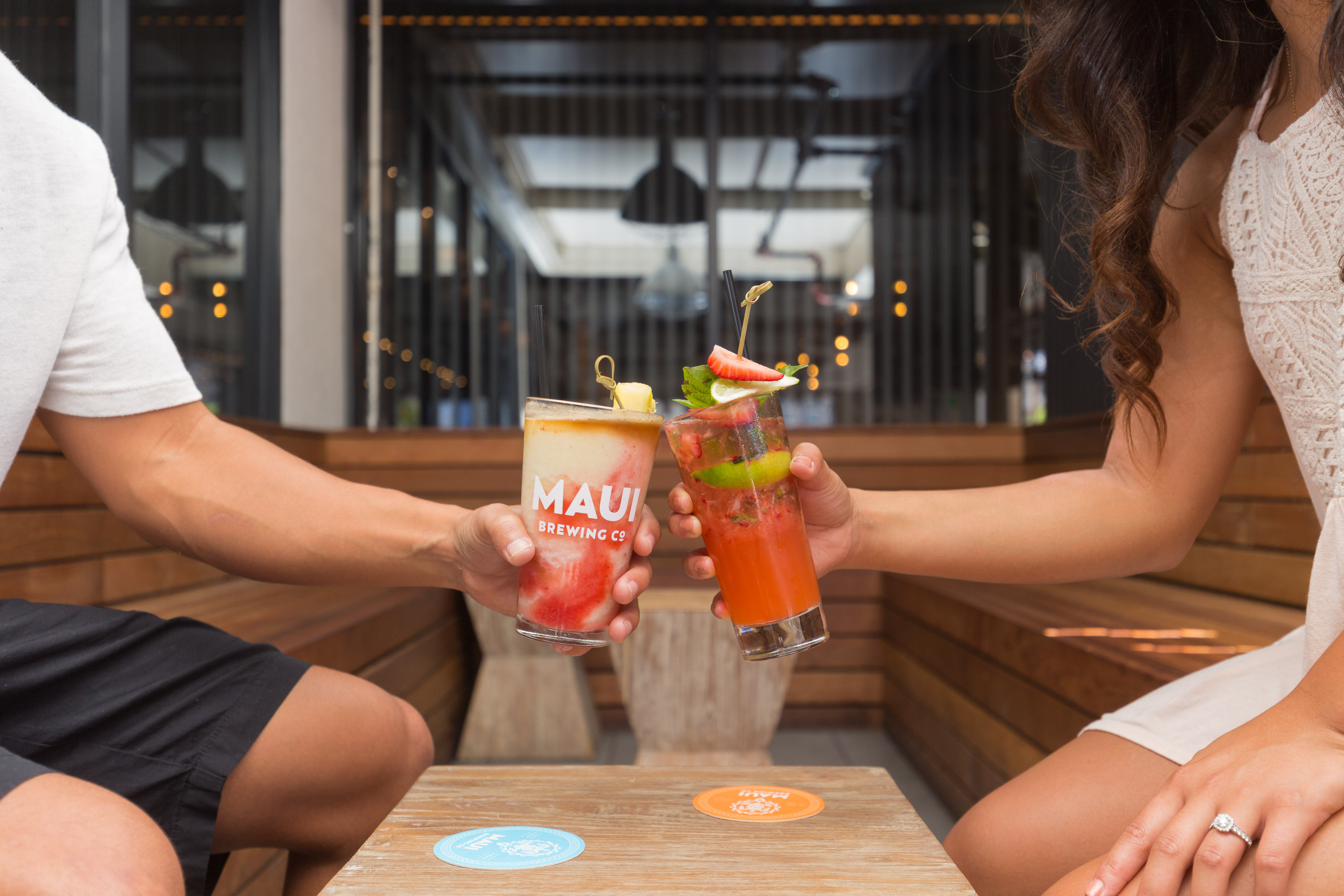 As Hawaii's largest craft brewery, Maui Brewing Co. offers a selection of foam-topped beauties that are impossible to top. When visitors sit at the Maui Brewing Co. location at OUTRIGGER Waikiki Beachcomber Hotel, they can choose from 36 craft and specialty beers on tap. That includes Maui Brewing year-round and special releases! In addition, the complete food and drink menu features artisanal, natural island-inspired cuisine adapted for classic "bar food" sensibilities.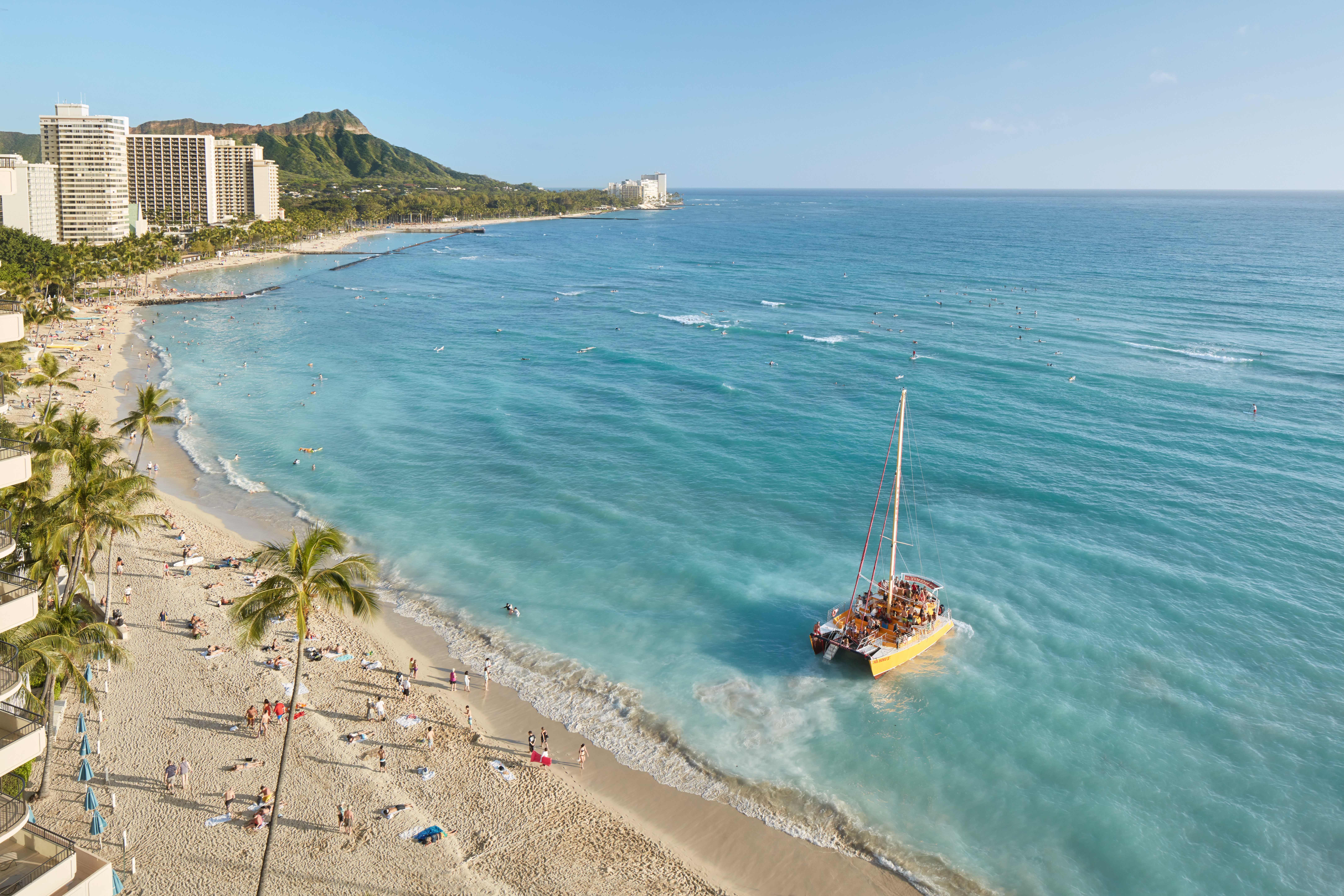 Feeling inspired to try something you've never experienced before? Why not book a stay on Oahu and sample some of Waikiki's best foods? Book your trip now!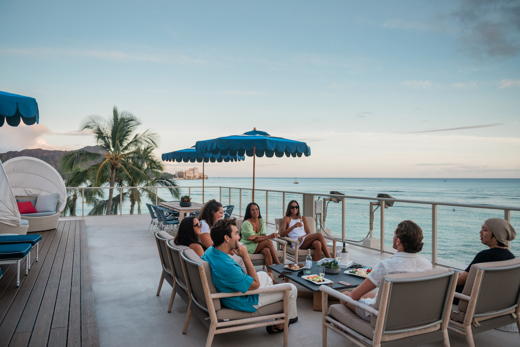 大切な思い出に変わる特別な瞬間を創り出しましょう。ビーチサイドでの自然発生的なコンサートから夕日を眺める親密な食事体験まで、私たちのリゾートは息をのむような出来事で賑わっています。
それが、アウトリガーウェイ。